If you are looking for a truly unique gift to celebrate a wedding, anniversary, new baby, or other special occasion, our custom painted wooden gift boxes may be the perfect solution.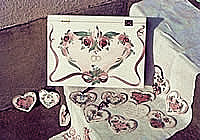 Wedding Box
Our Wedding Boxes are designed with the recipient in mind. Wedding boxes often feature flowers selected by the bride and groom, and the couple's initials and date inside the lid.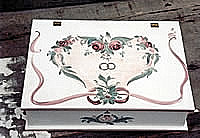 Wedding Box
Welcome a new baby with a personalized box adorned with favorite animals, angels, or flowers from the month of the child's birth.
For an anniversary gift that will surely be treasured for years to come, consider a personalized anniversary box to fill with mementos of special times together. The possibilities are endless.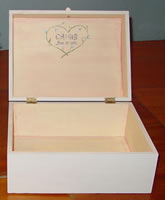 wed box inside
We work with you to select an appropriate design, using colors, elements, and price range of your choice to ensure that your gift reflects your personal touch.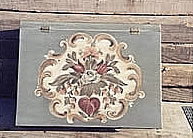 memory-box
Please contact us for more information on ordering a custom designed Wedding/Occasion box.
---
home
|
bavarian folk art
|
world of nature
|
wedding / occasion boxes
gifts for children
|
transformations
|
about the artists
|
faq
|
contact us
---
Bavarian Folk Artists
Concord, MA 01742 | info@bavarianart.com