Custom Name Plaques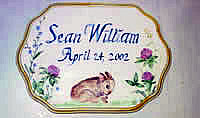 Baby Placque
Made to order plaques feature the child's name and birthdate; as well as animals, colors, and flowers of your choice. Certain to be well received at a baby shower or as a "Welcome, Baby" gift.
Book Boxes
Book Boxes are a popular and practical children's gift. Lovingly decorated, a sturdy wooden box provides a place for the childs favorite books to remain within easy reach, yet neatly stored.
<insert book box pictures>
Rocking Chairs
Our personlaized rocking chairs give a fortunate child his or her own special seat, perhaps to read a favorite book. We often include the child's name, characters, animals, or fairy tale elements on a rocker. We have unfinished children's rocking chairs available; or you may choose to provide your own.
Please contact us for more information on any Gifts for Children.
---
home
|
bavarian folk art
|
world of nature
|
wedding / occasion boxes
gifts for children
|
transformations
|
about the artists
|
faq
|
contact us
---
Bavarian Folk Artists
Concord, MA 01742 | info@bavarianart.com